Historical Charm with Modern Amenities
Enjoy a unique Lancaster County lodging experience at our bed and breakfast, 1777 Americana Inn in Ephrata, Pennsylvania. After a day of local sightseeing or other tourist activities, you will enjoy returning to relax in the garden or enjoy a cold beverage at our onsite Black Forest Brewery. The brewery features premise made craft beer, local wines, cocktails and a delightful food selection.
About Our Inn:
In 1777 Jacob Gorgas, a master tall cabinet clock maker built the house as a family home and a workshop for his business. After his passing, the Inn transferred hands to various family members, the last being Mathilda Mellinger, who died at the age of 33 giving birth to her seventh child, of which only 3 survived. At this point widow Annie Hermes moved to Ephrata and opened a millinery shop. After her death, the Inn was sold to the Grosh brothers who razed the stone barn in the rear of the house and built a three and one half story stone and frame carriage works. The Carriage House was then sold to Thomas Wilson who owned and operated a trotting horse. The carriage house burnt to the ground only a few days after the transaction and traces of coal oil were found lending some to speculate the fire had been set. At that point, extensive improvements were done to the home and Wilson opened the doors to Ye Village Inne. The Inne never did well after failing to obtain a liquor license and operated primarily as a tea room and boarding house. At that point, the Inn was purchased by Dr. Wagner who opened his doctor's office in 1940, the structure was not used again for the accommodation of paying guests until 1988 when it was opened as the 1777 House at Doneckers by Mr. Bill Donecker.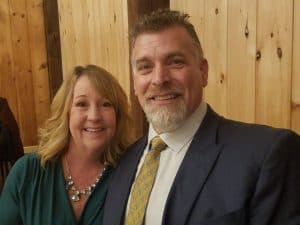 Enter Bob and Denise Harter! Bob and Denise raised three sons in Wernersville, Pennsylvania. Denise was a Family and Consumer Science teacher (Home Economics) at Governor Mifflin School District and Bob was a Project Manager for Deloitte and Touche. The idea to run a bed and breakfast with an onsite brewery was the brain child of Denise, Bob was an avid home brewer for years and Denise was finishing up her longtime career as an educator. The "Room with a Brew" idea took roots and the couple set off to find the perfect location. They knew the brewery would be named Black Forest Brewery after the favorite hiking trail of the Harter men. After searching for many years, the couple found the 1777 Americana Inn Bed and Breakfast in Ephrata, Pennsylvania; or as the Harter's like to say the Inn found them. Ironically, the founder of Ephrata, Mr. Konrad Beissel was born and raised in the Black Forest of Germany! Serendipitous discovery that has led to an enjoyable new career for the two as Innkeeper and Head Brewmaster!
Pennsylvania Dutch Country:
Our inn is located in beautiful Ephrata, Lancaster County—the heart of Pennsylvania Dutch country. Ephrata is nestled in the rich farmland that is home to our Amish, Mennonite, and other Pennsylvania Dutch neighbors.
Hidden Jewel:
In case you were wondering, Ephrata is pronounced 'EFF-ruh-tuh' which is derived from a biblical reference which the original founders of the historic Ephrata Cloister chose for the name of their settlement.
It's a tourist destination that's conveniently located minutes away from the Pennsylvania Turnpike. With a wealth of restaurants, interesting shops, cultural attractions, and natural beauty, visitors will find a hidden jewel in Lancaster County. We hope to see you soon and often!
Quality without Compromise:
Our historic, colonial home is surrounded by lots of landscaping, including trees and gardens. Get away from it all when you visit our country inn right in the middle of town. Enjoy all the amenities of a fancy hotel while basking in the simplicity of the country.